Businesses, institutions, and government entities are being overwhelmed with massive amounts of data which is lessening their ability to identify what is important and to act efficiently.
Techknowvate teams up with the Dayton Development Coalition to boost regional job growth
Challenge
The Dayton Development Coalition (DDC) enlisted Dayton startup Techknowvate (TKV) to aid in its already successful mission to recruit, expand and retain jobs in the Dayton region. Specifically, TKV was tasked with a pilot project to provide the DDC with actionable new business recruitment leads focused on Wright-Patterson Air Force Base (WPAFB) and the aerospace industry.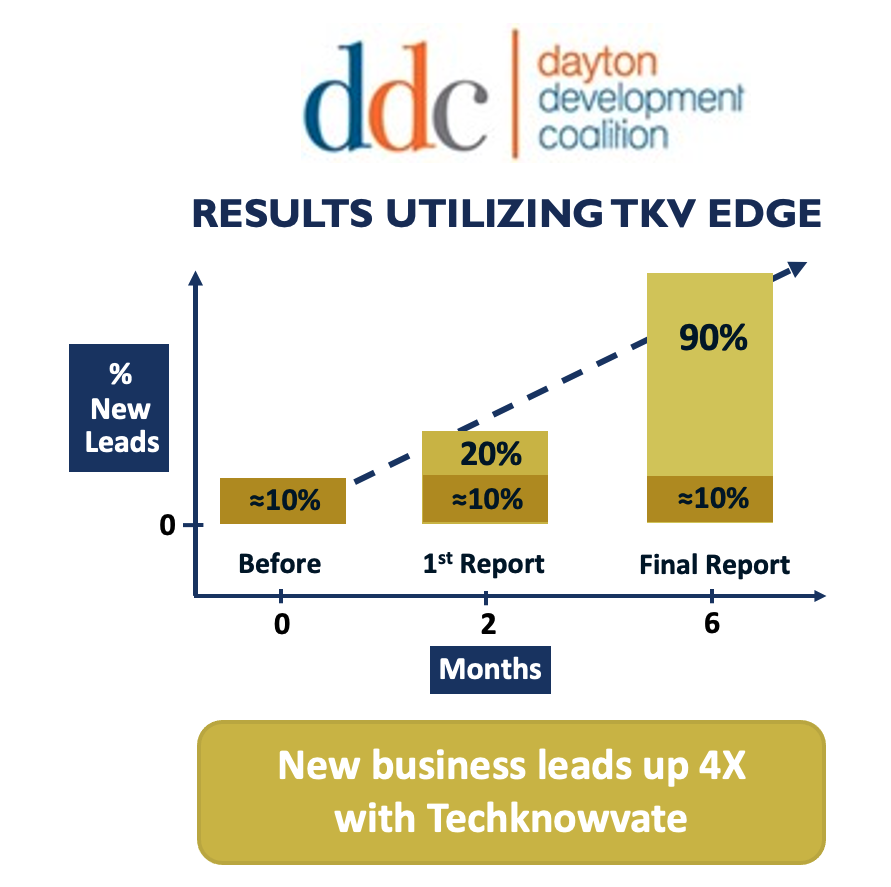 Solution
Techknowvate used its customizable Edge software to identify businesses that would directly benefit from moving and/or having operating locations in the DDC region to support WPAFB. Using advanced algorithmic data analytics and Artificial Intelligence (AI) software, Techknowvate assigned companies a WPAFB Proximity Value (WPV). The WPV is a data-driven weighted percentage, illustrating the value to a company of having an operating location within the Dayton Region.
Result
DDC Leadership shared that Techknowvate's results were unprecedented. Over 70% of new leads found using TKV's business intelligence were companies not found in any Ohio database, proving TKV's technology delivered the most expansive and comprehensive list of potential leads in the market. Expectations were that TKV would help identify qualified candidate companies and many would already be on the DDC's radar. However, TKV's lead generation AI software actually discovered a majority of new leads not previously considered. Also, the DDC now has a call-back rate on new leads of more than 40%, nearly 4 times the rate prior to TKV's assistance. Additionally, TKV's self-improving AI algorithms created increasingly relevant and qualified leads with each submission; improving results from 20% to over 90% in less than 6 months. In addition to the predictive results, Techknowvate provided prescriptive information and metrics to help the DDC recruit businesses to the Dayton region. Full dossier profiles were customized for each business lead, including specific connections to the Dayton region and curated strategic contact outreach information. All dossiers were ranked based on each company's WPV. 
For more information about Techknowvate email: contact@techknowvate.com