Businesses, institutions, and government entities are being overwhelmed with massive amounts of data which is lessening their ability to identify what is important and to act efficiently.
Techknowvate proves capabilities in US Air Force advanced manufacturing Olympics
Challenge
The Advanced Manufacturing Olympics (AMO) included five Technical Challenges designed to address some of the Air Force's most significant sustainment issues. The challenge was to develop the use of novel advanced manufacturing concepts coupled with innovative Supply Chain Management (SCM) approaches to propose the best basing strategy that satisfies the most Warfighter requirements, and delivers parts on-time and on-schedule.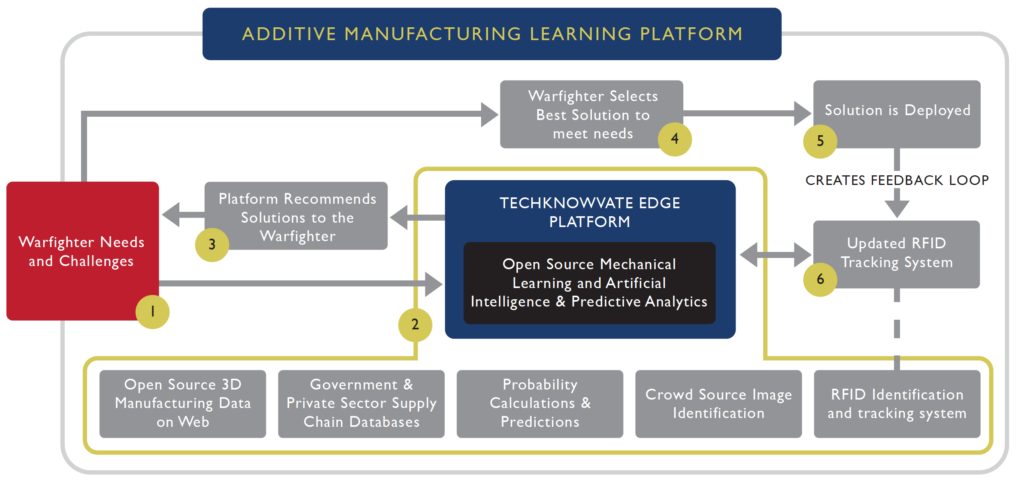 Solution
SOLUTION:
In order to help the Air Force realize the full benefits of advanced manufacturing,Techknowvate utilized the FALCON Artificial Intelligence and expert learning platform which offer a means of fulfilling Warfighter needs from a complex, evolving, diverse, and fragmented supplier base. Drawing from a number of data sources such as open source, crowd source, web data, and public & private databases, Techknowvate FALCON was able to predict the best possible solutions through artificial intelligence, expert machine learning, and predictive analytics. The system is able to recommend the best manufacturing method, from known and reliable vendors within the best geographical region, that would be able to deliver quickly and within reasonable budget parameters. The Airmen would then be able to select the best option based on the systems recommendations and their own experience and knowledge. As new systems are fielded, RFID based tracking and user feedback informs the AI to improve calculations and predictions. As new technology is developed and proven, the system will adapt and identify new opportunities. The system is able to essentially "crowd source" the best possible solution, independent from the supplier base.
Result
Techknowvate was considered an RSO/AMO Olympian and Supply Chain Marathon finalist – one of only 64 teams selected out of over 500 applicants from US and Canada. Additionally Techknowvate was the only software company selected to participate in the Air Force's Advanced Manufacturing Olympics to help transform the way the US Air Force approaches sustainment.
For more information about Techknowvate email: contact@techknowvate.com